Achieve Open House December 13
We are actively recruiting 6th-grade students from Boston Public and Charter schools to join our program beginning in Summer 2024. Are you considering applying to Achieve? Come to our information session on December 13th to learn more about the program.
Achieve in the Bay State Banner
When she started in the Achieve Program, Thalita Almondes of East Boston was good at reading, but she struggled in math.
Now three years later, she aces both.
"I've loved it," said Almondes, who is now 13.
She is one of hundreds of middle school students who have participated in Achieve, which is now in its 15th year.
The tuition-free program, whose mission is to close the achievement gap and open access to learning, has helped roughly 400 middle school students get on a path to college or into one of the city's three competitive exam schools. The program is based at The Noble and Greenough School, an independent boarding school in Dedham.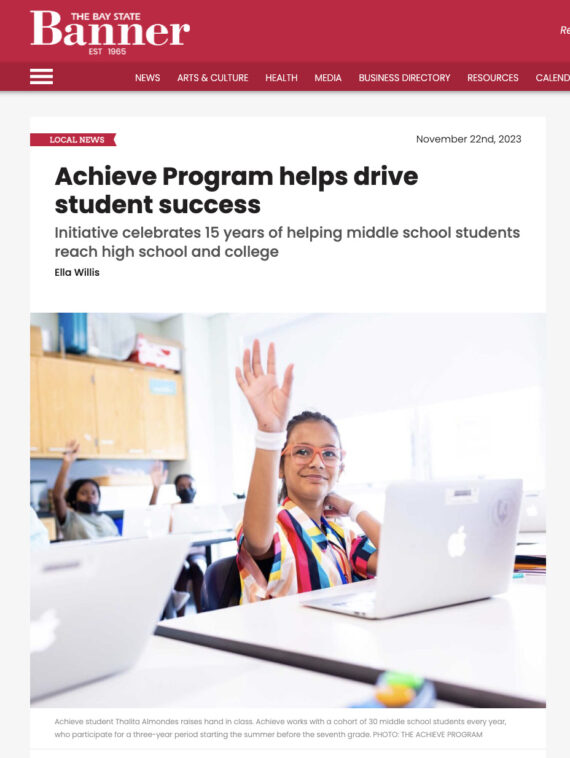 Achieve September 2023 Newsletter
The theme for Summer 2023 was "Celebrate," as we marked the 15th Summer of Achieve. I feel like I say this every year, but it might have been our most joyful summer yet. Our students showed up every day, no matter how hot (or rainy) the weather, and truly gave their best both inside and outside of the classroom.
This summer was particularly special to me as we celebrated the graduation of Pride 13. When I came on as Director of Achieve in 2021, these students and I were new together as we all navigated a return to in-person Achieve despite the uncertainties of the ongoing pandemic. As I said in my graduation remarks, this cohort "truly epitomizes the spirit of Achieve." We are so glad they won't be going far, as they have all made the commitment to join our second cohort of the Achieve Graduate Fellowship.
Click here to read the rest of our September 2023 Newsletter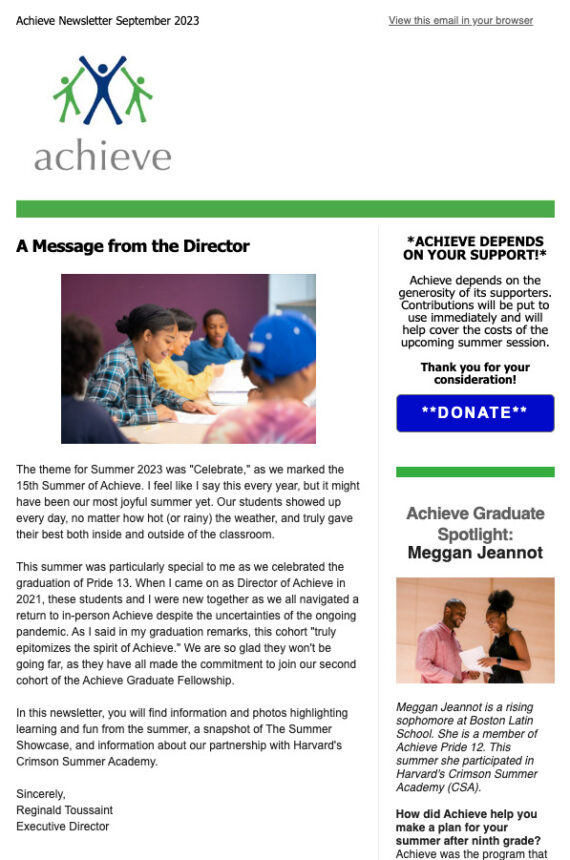 Achieve June 2023 Newsletter
June is always a busy month at Achieve. While most of our Nobles colleagues are winding down toward a well-deserved summer vacation, our team is kicking into high gear preparing to welcome our summer staff and students back to campus for another six weeks of learning and joy.
The theme for Summer 2023 is "Celebrate," as we mark the 15th Summer of Achieve.  Students will be celebrating themselves and their community throughout our advisory programming, culminating in the annual Field Day Lip Synch Battle, which is always a highly anticipated event. We also look forward to celebrating our oldest Pride (Pride 13) at the end of the summer as we send them off to high school!
In this newsletter, you will find information about our newest class of scholars (Pride 15) as well as our graduates' summer and post-high school plans. It will be a busy summer for the entire Achieve community, but we are so excited about what's to come!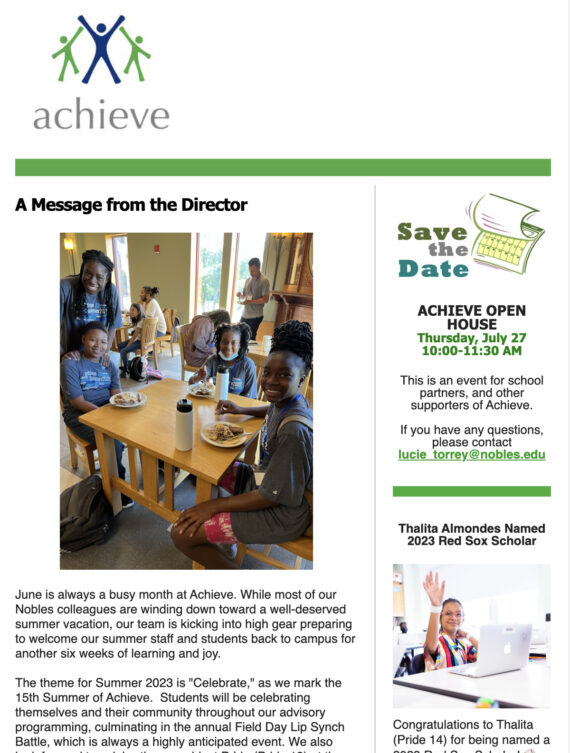 Achieve February 2023 Newsletter
A Message from the Director
Last month, we had the opportunity to come together with friends of Achieve and members of the Nobles community to celebrate the launch of our 15th year. As our team is busy preparing for our 2023 summer session we also wanted to share the remarks from the 15th Anniversary event with all of you.
We are so grateful for the community of students, families, school partners, and supporters we have developed since our program's inception in 2007.
In partnership,
Reginald Toussaint
Achieve in the Boston Globe, November 2022
Dailin Morfa hated the classes she was taking.
She had moved from Boston as the pandemic raged to attend Denison University in Granville, Ohio. A graduate of Brooke Charter School Mattapan, Morfa was used to going to school with other students of color and being among the top in her class, but found herself feeling out of place at the predominantly white university while barely staying afloat academically.
Morfa, a first generation college student, turned to the people who helped her adjust to the rigors of Brooke Mattapan, the people who nominated her for the selective Posse Scholarship, the people who had tutored her since she was 11: the folks at the Achieve Program.