Achieve in the Boston Globe, November 2022
Dailin Morfa hated the classes she was taking.
She had moved from Boston as the pandemic raged to attend Denison University in Granville, Ohio. A graduate of Brooke Charter School Mattapan, Morfa was used to going to school with other students of color and being among the top in her class, but found herself feeling out of place at the predominantly white university while barely staying afloat academically.
Morfa, a first generation college student, turned to the people who helped her adjust to the rigors of Brooke Mattapan, the people who nominated her for the selective Posse Scholarship, the people who had tutored her since she was 11: the folks at the Achieve Program.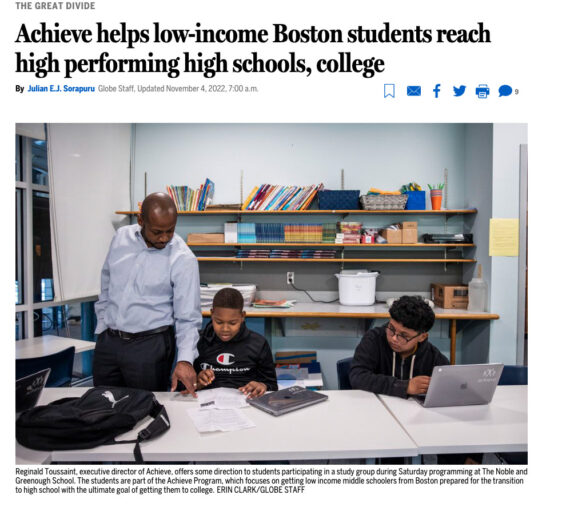 Achieve in the Dorchester Reporter, November 2021
The Achieve Program has just launched the application process for its 2022 summer academic program in which Boston Public School students spend summers at the Noble and Greenough School in Dedham engaging in an academic curriculum.
They begin the program in the summer of their 6th grade year and continue participating in it through the college application process in their senior year of high school. During the school year, Achieve students spend two Saturdays a month participating in the program.
Reginald Toussaint, Achieve's executive director, said the longevity of the program is what separates us from a lot of the others. Some places," he said, "start and do a heavy focus on giving a lot of academic support for a short period of years, and then they transition to somewhere else, or they give a very specific kind of support—let's say, test prep or high school placement, or college placement. We'll make a commitment to each kid that comes into our program that we'll follow you and we'll work with you for seven years.